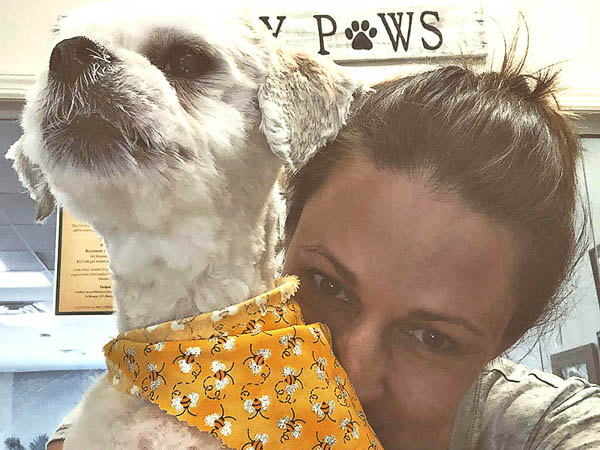 Dawn Tallo
Owner, Lead Stylist
Hi! I'm Dawn Tallo (previously Penzarella), Owner and Lead Stylist for over 20 years at Sandy Paws! I have over 20 years grooming and ownership experience and have spent that time creating your pets best salon experience. I truly love what I do and hope to continue on this path for many more years to come. I have 4 children: Evan, Sarah and my step kids Bella and Santo. They all keep me on my toes. My 2 rescue dogs: Amy and Bean.  I am married and my husband Steve thinks I love the dogs more than him…shhh!
Owning a shop has been exciting, scary, crazy, exhilarating and terrifying. However, my clients have always been loyal and have kept my doors open now for 20++ years. We are so very thankful for all of them.
Mom of 4 four leggers, Drogo, Kahlissi, Grayson & Banjo, has been with Sandy Paws since we had the kennel in Middletown many years ago. She has quickly excelled to specializing in poodle breeds. Kristina is a vet tech and has worked with dogs for over 10 years. After managing Sandy Paws in Middletown, Kristina moved on to becoming a vet tech but learned she wanted to get closer to the dogs and wanted to be a Stylist. We happily rehired her and now she has been grooming with us full time for 5 years.
I am an Original Sandy Paws pack member. Staring in 1999 in Sea Bright with Dawn. I came back after running my own shop for a few years. I have a degree in Equine Science and love working with horses as well as dogs. I specialize in Bichon Frise, yorkies and schnauzers. I can do any breed, just tell me what you want. With 22 years' experience, I can figure it our based-on experience. I still love what I do after many years. I also work on cats. Bring your baby to me, and we can discuss what you want and if it's possible I will do it.
Full Time Dog Groomer. Specializes in Doodles & Poodles.
I started with Sandy Paws in October, 2020. I have worked with dogs and cats for years and know this is what I want to do. I currently assist the groomers and work to manage the day to day activities of the salon. I manage the front desk as well as the dogs and groomers. I plan to train to become a stylist in the future. I am excited to work in what I love. I look forward to coming in every day. Come in and see me, just make sure you bring your furry for legger with you. 
Follow @sandypawsnj on Instagram
Get news & exclusive offers from SANDY PAWS
Hours
Tuesday thru Saturday
Starting at 8:30am
Holiday Hours May Vary
Privacy Policy · Terms & Conditions
©2021. All Rights Reserved.

Hours
Tuesday thru Saturday
8:30am to 3pm
(or when finished)
Holiday Hours May Vary
Privacy Policy · Terms & Conditions
©2022. All Rights Reserved.